[Introduction]
I traveled to Singapore in late June for the first time in two years. In addition to famous tourist areas, I went around spots I have never been to before this time. While I have lived in Singapore for a year and half before, I find something new whenever I revisit Singapore. In this article, I will write about City Hall/Marina Area and return home as part of Day 5.
[Visit Places (series of articles)]
* Day 1: Fly to Singapore with Scoot
* Day 1: Don Mueang International Airport
* Day 2: Raffles Marina
* Day 2: Chinese Garden
* Day 2: Tiong Bahru/Outram Park/Tanjong Pagar
* Day 2: Orchard Road Part1
* Day 2: Orchard Road Part2
* Day 3: Sentosa (Madame Tussauds/Merlion etc.)
* Day 3: Sentosa (Palawan Beach)
* Day 3: Sentosa (Cable car)/Henderson Waves Bridge
* Day 3: Chinatown
* Day 4: Katong area/Esplanade
* Day 4: Marina Bay Sands/Gardens by the Bay
* Day 4: Marina Barrage Part1
* Day 4: Marina Barrage Part2/Gardens by the Bay
* Day 4: Marina Bay Sands etc.
* Day 5: library@orchard etc.
* Day 5: Little India
* Day 5: Bugis
* Day 5: City Hall/Marina area & Return Home [This article]
[Travel Date]
2018.06.23-27
[Main Part]
Walk around City Hall
It was the 5th day, the final day of the trip, in the evening. I have done almost all the things I had planed, so I will just go around. To begin with, following the previous post, I moved from Bugi to City Hall area.
I passed in front of "National Library" and took several photos there.
In this trip, I visited "The library@esplanade" (see the related article) and "library@orchard" (see the related article), and found libraries in Singapore were full of artistic atmosphere.
This is "Lee Kong Chian School of Business", Singapore Management University's (SMU) business school.
To tell the truth, I graduated from a business school (not SMU) in Singapore 🙂
"CHIJMES", which used to be a monastery, is a complex facility including restaurants, bars, cafes and shops.
In front t of "Raffles City", a shopping mall near City Hall MRT station, there was an art work like this.
Speaking of famous tourists spots around City Hall, "Raffles Hotel" may be the first place that comes to mind for many people. However, "Raffles Hotel" has been closed for restoration. I visited "Raffles Hotel" two years ago, so if you are interested in it, please see my past articles.
"Visiting National Gallery Singapore and Raffles Hotel"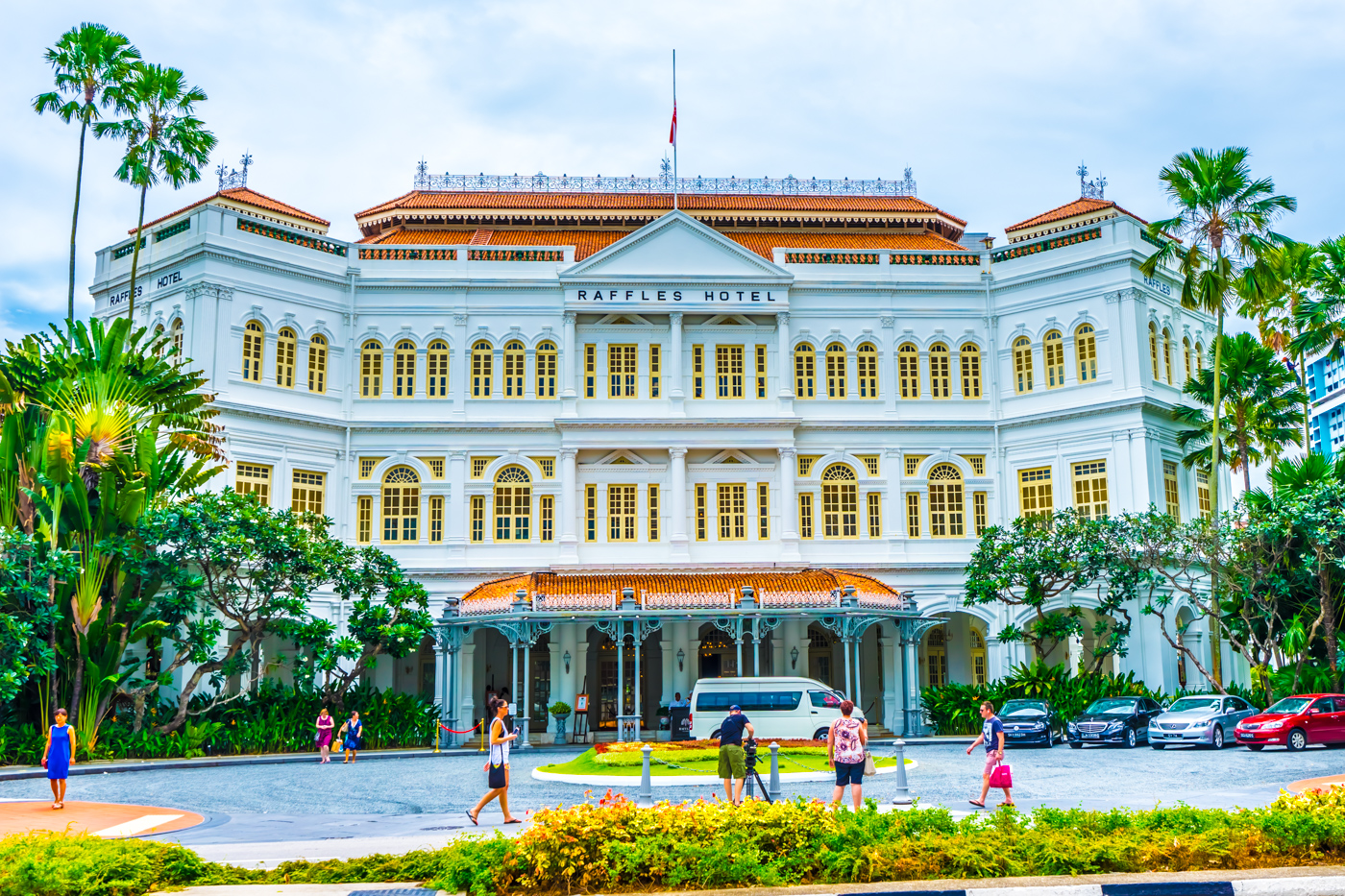 Walk around Marina Area
I will extend my visit from City Hall to Marina area. Kitty corner from "Raffles City", there was an artistic facility, which was unfamiliar to me.
I checked it out and found this was "JW Marriott Hotel Singapore South Beach", which was opened in December 2016. It has been two years since I visited Singapore last time and there have been lots of new hotels opening.
A snap photo of a colorful bus.
Another bus photo.
"Millenia Walk" was one of the shopping malls in Marina area.
In "Millenia Tower", the office area of "Millenia Tower", Yayoi Kusama's art work ("Yellow Pumpkin") was displayed.
I moved to "SUNTEC CITY".
The last thing I would like to do in Singapore was to watch light-up of "Fountain of Wealth".
There was still time before the light-up, I will have a quick dinner at "foodrepublic" in "SUNTEC CITY".
I chose "Yogurtland" as the place to have my "Last Supper" in Singapore.
I had a light meal, considering in-flight meal will be served later in my return flight.
When I returned to "Fountain of Wealth", the light-up has already started.
Based on feng shui principles, it is believed that walking around the fountain three times will bring you good luck.
Please note: visitors are allowed to walk into the fountain during the designated time slots and in the evening, the time slots was 18:00-19:30.
It was after 19:30 when visitors went out of the fountain.
As I booked a taxi at the hotel I stayed, I will go back to the hotel.
A snap photo on the way.
Return Home
I picked up my luggage and moved to Changi Airport.
As is the case in the outward flight, I will use Scoot for my return flight.
As I have mainly used Singapore Airlines, which departs at Terminal 3, I will use Terminal 2 for a long interval.
I didn't have enough time to go around the airport, as I was caught in a traffic jam, so I just went straight to the passport control.
At the departure gate.
My return flight for Narita was Scoot "TR 868" via Bangkok.
Although I am not so young, it was so to speak "Red-eye Flight".
Good-bye, Singapore.
As the in-flight meal between Singapore and Bangkok, I chose "Signature Mee Goreng with Beef Cubes".
I arrived at Don Mueang Airport in Bangkok. I was in Thailand, so Donald welcomed me with its hands clasped.
The second flight from Bangkok to Narita.
As the second in-flight meal, I had "Chicken Ham & Cheese Croissants".
Thanks to the comfortable business class seat, I was able to have an enough sleep and reached Narita airport in the morning.
Regarding my review of Scoot, please see the first article of this Singapore trip series. As I mentioned in the past article, the air ticket of Scoot between Tokyo and Singapore was less expensive by 20,000 Japanese yen compared with mega careers (JAL, ANA and SQ), even if I choose business class. Although the Scoot's flight was not a direct flight, it was worth the money. In particular, in terms of red-eye flights, Scoot business class seat would be better than mega career's economy class, as I think passengers will be able to have more sleep.
Then, I returned to home from Narita airport and my Singapore trip was over.
[Closing]
That's it for the article aboutCity Hall/Marina Area and return home as part of Day 5.
To recap the trip, as the final article of Singapore trip series, I extended my visit to the areas I have never been to before (e.g., Raffles Marina, Chinese Garden, and Marina Barrage) and visited new spots (e.g., a series of wall arts in Tiong Bahru – Tanjong Pagar, Chinatown, Little India, and Bugis), and I found something new whenever I visit Singapore.
Although new spots that have huge impacts to Singapore tourism just like Marina Bay Sands have not been developed for several years, there are new shopping malls and tourists spots rising out every year. As in this case, I would like to revisit Singapore around two years after 🙂
Now my Singapore trip series with 20 articles was completed. Thank you for reading my blog.
Regarding my next trip, I have already arranged it. I am going to Osaka from September 22 to 26. I have been to Osaka on business before, but this is my first time to visit Osaka for travel. My blog will not be updated for the time being, but once I return from Osaka, I will start the next series, so stay tuned 🙂
[Map]

1 National Library Singapore
2 Lee Kong Chian School of Business
3 CHIJMES
4 Raffles City
5 JW Marriott Hotel Singapore South Beach
6 Millenia Tower
7 Suntec City (Fountain of Wealth)
[Related Link]
Visit Singapore
Suntec City
Changi Airport
Scoot
I would appreciate it if you could share my article via the following SNS buttons.